Framm – ergonomic adjustable and foldable stock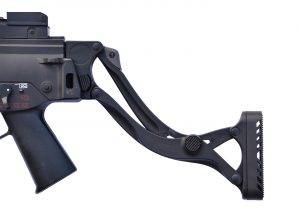 The FRAMM® stock has been developed by the company REDCORE SAS to allow optimal shooting when using a visor helmet or gas mask.
The FRAMM® stock is the only stock that allows height adjustment and adapts perfectly to the shooter.
This patented system makes it possible to adjust the weapon according to the configurations of use and the morphology of the shooter: 9 adjustment steps.
Its advantage: a single stock for all uses. The FRAMM® stock offers optimum wear resistance thanks to its materials and metal insert for operational use.