Krogen BG3 – incapacitant scatter shield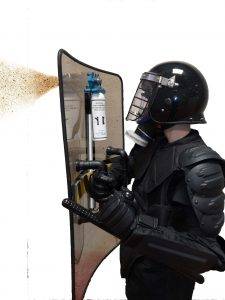 The patented " KROGEN " system is a technological advance in law enforcement equipment .
The observation is made that the wearer of a shield and a protection staff cannot push back a superior opponent physically.
With the "KROGEN", the operator remains focused on his action and he will be able to protect himself but also ward off the threat by spraying an incapacitating tear gas product.
With the "KROGEN", the threat will be able to be repelled quickly and provide users with rapid release.
Its use is simple, an incapacitating aerosol is fixed on the structure of the shield and the spraying is done thanks to an actuator integrated in the handle. Can be fixed on the shields already provided.
 
Features:
Dispersion area: 2-7 meters
Can be integrated on small or large shield